Teacher Training in South Sudan
Teacher Training in South Sudan:
Tearfund Ireland's Education in Emergencies Programme
This is the founding principle of Tearfund Ireland's teacher training programme in South Sudan. We are working to build the capacity of teachers, as improving teacher effectiveness is a vital step towards improving students' learning and outcomes.
Many years of conflict in South Sudan have severely impacted the country's education system, which is critically under-resourced. Access to good quality education is difficult, if not impossible, for most children.
Tearfund Ireland's consultant teacher-trainer has been equipping maths teachers in South Sudan, helping them to move away from the "chalk and talk" method towards a more child-centred teaching approach. The training course emphasises the importance of teacher-child interactions, and supports teachers in acknowledging students' self-expression and appreciating students' ideas and problem-solving abilities.
The training uses indigenous learning concepts, and encourages teachers to see the resources that surround them as teaching aids, including bottle tops, containers, and even a live hen!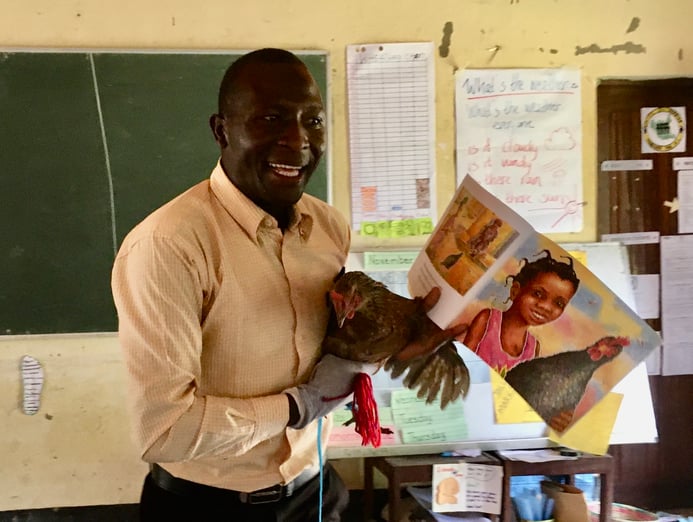 A student teacher uses a live hen to assist with his lesson
In order to ensure the sustainability of this programme, a local tutor has been working alongside Tearfund Ireland's consultant, and we hope that on her trip in 2020, the consultant will simply monitor the training before handing over the reins to the local tutor.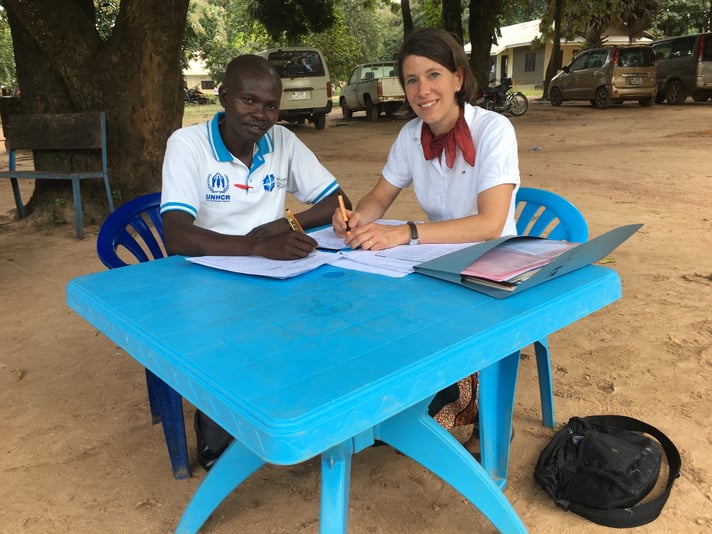 Tearfund Ireland's teaching consultant, Elke, with Tanabor, the local tutor set to take over the training
The training is based in Emmanuel Christian College (ECC). Three years ago, in 2016, when the conflict erupted again in South Sudan, many schools closed due to insecurity, while people fled to neighbouring countries. Despite the insecurity, the ECC staff defied all odds to allow students to continue with their studies, as the Principal of the College, Daniel Ohide, believes that "education is too important to wait for peace. Investing in teachers is an investment in the future of the country." He says that "education plays a major role in the development of a nation, and the college wants to continue to enhance unity by making education accessible to all churches, people and tribes."
2019 has been a year of great challenges for the college, with insecurity, litigations, the closure of a partner university and lack of funding. Despite these obstacles, the ECC community started this year with the theme seeking God and pressing on together. With this spirit of determination and devotion, 159 students have been able to graduate this year.
Each year, Tearfund's consultant talks about her work at Greenlanes Primary School in Dublin. This year, a group of enthusiastic students got involved by organising a Hand Me Down Sale to raise money for this project.
When the teachers in South Sudan heard about this creative and fun event, it gave them the energy they needed to keep going, and reminded them that in these difficult times, people in Ireland are standing with them.
Thank you to the students at Greenlanes National School, we really appreciate your hard work and innovation!
And thank you to all in Howth and Clontarf who have supported this project – the impact of your support is felt deeply, by the team in Dublin, and more importantly by the teachers in South Sudan.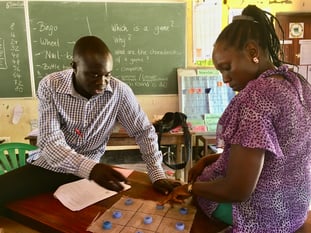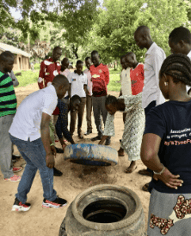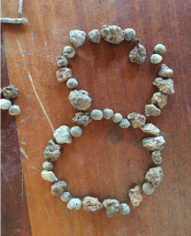 Mathematical game out of local resources. Problem solving. Using local materials.
.