All people are created in the image of God. This is not a mere, wistful nicety nor is it solely a doctrinal position. This is a statement of truth. A fundamental, axiomatic, biblical truth. God created all people. The act of creation entails intent, which implies purpose which, in turn, indicates God had a reason for creating different people groups. His command to 'be fruitful, multiply and have dominion' was an instruction to guide our role as stewards of Creation – not to be used against our fellow human beings.
As such, we grieve with our brothers and sisters of colour who have suffered at the hands of others. The issues which have, for hundreds of years, plagued the United States have reached a significant point the last few weeks. Will the current wave of demonstrations and protests prove to be a tipping point? Will the current focus on the issues be enough to bring about change?
Yes, the historical perspectives in America are deep and complex. Yes, the current circumstances contain a mix of systemic racism, cultural exclusivity, police brutality, poor leadership, political influence and self-serving individualism. Regardless, the issues must be addressed. Black lives matter. Acknowledging this truth doesn't diminish the plight of others. The First Peoples were oppressed during the early expansion of the United States through actions that today would be called genocide. Red lives matter. There has also existed deep mistrust and ill-treatment of the Hispanic and Asian communities who have been marginalised for decades. Brown lives also matter.
Photo: Duncan Shaffer
I was born in the United States and, growing up in two major cities I experienced much ignorance, bigotry and racism first-hand. My high school was part of the de-segregation initiative – in which the city council decided the best way to resolve the problems of segregation was to close down schools in predominately black neighbourhoods and bus the students across the city to a school in a 'white' neighbourhood. I had black friends who were treated dismissively by those in authority, looked at suspiciously as we walked down the street at times some were harassed by police. The only difference between them and me was the colour of our skin. I also know the rage and heartbreak of a sister who was ostracised by our extended white family because she had the audacity to fall in love with a black man.
My black friends helped me become a better person. I never considered myself racist but I learned from friends that I had a very 'white' view on life. I discovered quickly that it wasn't good enough to pretend I didn't see their colour – "well then you don't see me" was the response it took me years to understand. And I learned from watching how the parents of my black friends handled themselves. I was impressed by their character, strength and perseverance in the face of suffocating oppression and lack of opportunity.
Yet we also know that racism isn't confined to America. It truly is a global pandemic. We have our own history of oppression here in Ireland and don't need to go back too far in time to recall the signs, 'Irish need not apply'. Even with that historical background, many who've recently immigrated to Ireland have painfully articulated the strictures of a society which seems to be against them, the lack of opportunity or outright abuse they've received. Racism truly is an injustice.
Is this really the best we can do? Is this really who we are?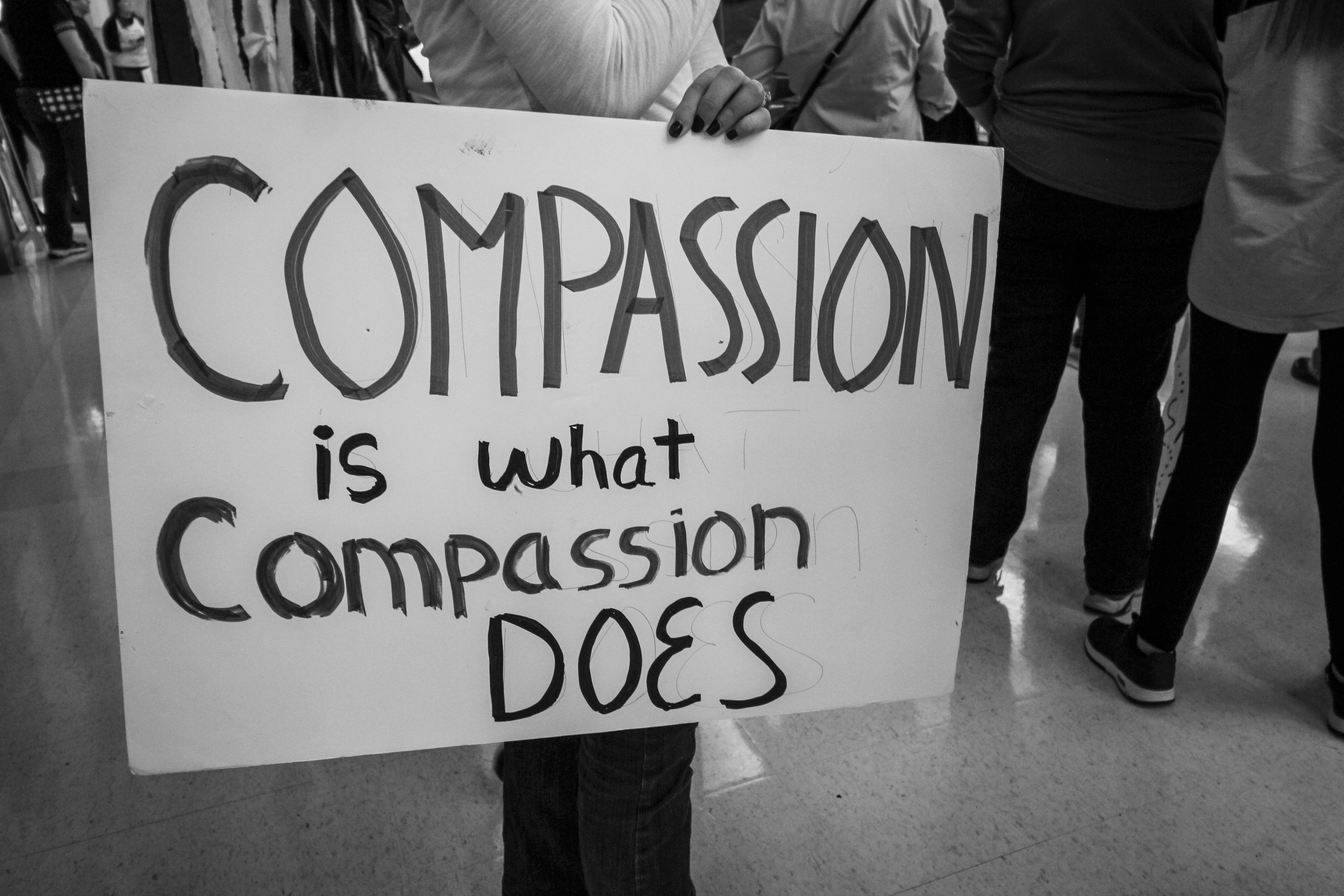 Photo: Protest in 2017, Amanda Prather, Tearfund Ireland
The coronavirus has been the context within which the conversation of race has, once again, risen to the fore. During the last few weeks there has been much talk of taking stock, reflecting on how we can build a better society as we emerge from the coronavirus lock down. Many segments of the Church have been actively promoting this conversation about rebuilding society.
The recent deaths of Ahmaud Arbery and Breonna Taylor, along with the frightening video of George Floyd's killing and the most recent shooting of Rayshard Brooks, have disturbed the world's conscience. These deaths and the collective response to them are providing us all an opportunity to make a necessary, foundational shift in our society and culture - not to mention our own perceptions and perspectives. What kind of society are we building? Are we living the values we claim to believe? Will we choose to reflect with humility and courage in order to build a better society?
Are we, in Ireland, ready for that conversation? Is the Church in Ireland ready to be a part of that conversation?
To read Tearfund Ireland's Statement on Racial Injustice and a Pray for the Church and our World, go HERE.
Cover Photo: Aarón Blanco Tejedor