Psalm 84:5-8

"Blessed are those whose strength is in you, whose hearts are set on pilgrimage. As they pass through the Valley of Baka, they make it a place of springs; the autumn rains also cover it with pools. They go from strength to strength, till each appears before God in Zion."
Halima's story
Halima has three children and lives with her mother, father and grandmother in Lebanon's Bekaa Valley. Halima and her family are one of the families Tearfund Ireland is supporting with weekly food distributions.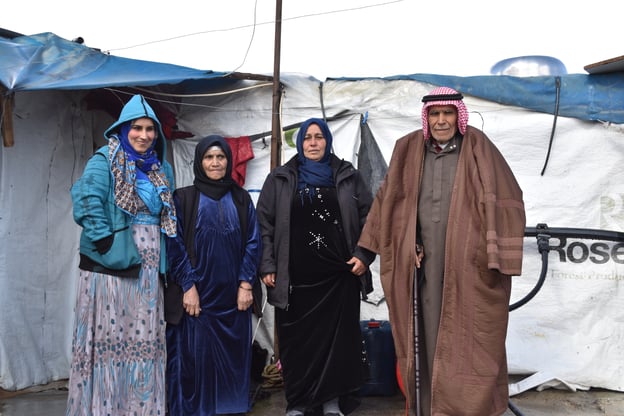 Halima (left) with her grandmother, mother and father outside their home in the Bekaa valley. Photo Credit: Tearfund church partner in Lebanon - Merath (Middle East Revive and Thrive) April 2020
Since the Coronavirus outbreak these distributions also include hygiene kits with items such as soap, hand sanitizer and bleach. Halima is from Aleppo in Syria. She describes life as 'good' before the war, 'we were living peacefully' says Halima. Her husband died in the war and so Halima decided to move to Lebanon to be with her parents who had already moved there. Halima says; 'in Syria, I could not sleep because of the bombings and explosions and all the things we saw. My two oldest children saw many traumatizing things with their own eyes. Several times we witnessed planes dropping bombs near us. It would hit homes and cattle. So we fled with nothing but the clothes we were wearing. It was very difficult'
Together now as a family of seven they live in a single roomed tent.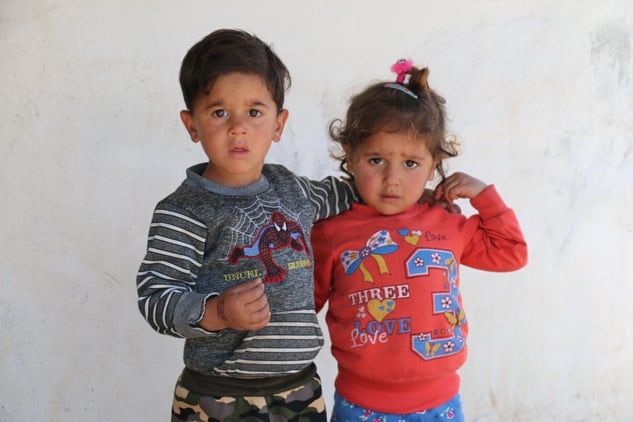 Two of Halima's three children. Photo Credit: Tearfund church partner in Lebanon - Merath (Middle East Revive and Thrive)
Halima's mother, Aida, tells us about life since the Coronavirus outbreak:
'We first heard about the spread of Coronavirus through neighbours and people around us. Then the municipality came to tell us that it was now forbidden to leave the tent or have visitors. We just stay inside the tent or around it. Only one of us goes out to buy food for our family to survive.

We are very afraid of the virus, especially for the children and for us as we are old. If we were to catch the virus, we would never be able to get proper treatment. My husband has diabetes and high blood pressure, and for two months now we have not been able to buy his medication.

So we are thankful that we received this hygiene kit. The items in it will help us wash and disinfect our hands well and hopefully protect us from catching the virus. The church also gave us some washable face masks which will be very helpful whenever we need to go buy food!

April 2020 Aida, Halima's mother, washes her hands beside their home in the Bekaa Valley. Tearfund church partner in Lebanon - Merath (Middle East Revive and Thrive)

We hope the situation will get better shortly and that God will open the right doors for our family and for everyone. May he remove this plague from us and from the world.'